Croatia, Kvarner and Gorski Kotar
14 – 22 May 2022
DISCIPLINES: Run/hike, MTB, paddling, ropes, navigation
DISTANCE: 550 km
CATEGORIES: ARWS Mixed Teams 4
TEAM LIMIT: 60 teams
WINNING TIME: around 75 hours
COURSE OPEN: 104 hours
Unsupported
Kayaks and rafts provided
MANDATORY EQUIPMENT: ARWS Standard list
RULES:  Standard ARWS rules
1st Place – Free entry to ARWC 2022
1st Place – Free entry to ARC 2023
Sponsor prizes for top 3 teams
Where the hack is Croatia anyway? Right?
You heard great things about it but where is it actually? And more important: how to get there?
Well, it's not so complicated. The biggest international airport in Croatia is Zagreb Airport (3 hours from Baška, Island Krk). 
We will arrange airport pick-up on Saturday May 14 and airport drop-off on Saturday May 21 and Sunday May 22. We will try to adjust the time of the pick up according to the arrival of the teams but don't expect us to be very flexible. We will definitely try our best.
Or you can rent a car and make an Eurotrip out of it.
Additional transfer at different times or from different airports can be arranged on request with additional fee.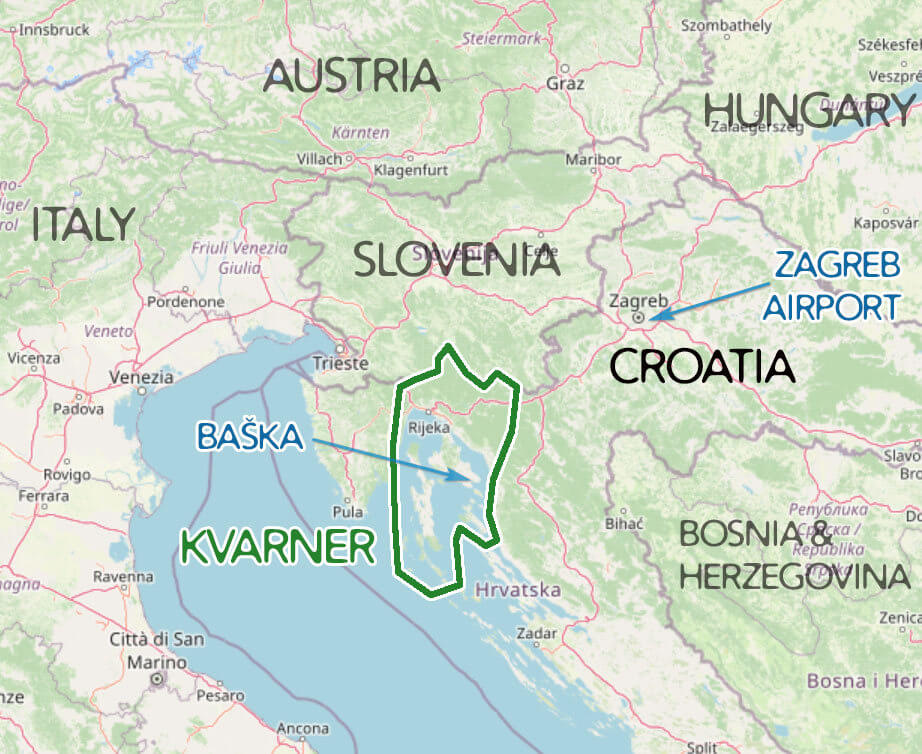 GEAR BOXES
We will provide you with 2 re-supply boxes per team (approx 140 l per box).
Only boxes supplied by the organizers may be used, teams can't use their own re-supply boxes.
Boxes will be available at some of the transition areas on route. You will always get your 2 boxes together.
More info on these areas will be in the road book.
Maximum weight of the one box is 25 kg.
BIKE BOXES
The teams will have to bring their own bike boxes for safer and easier transfer during the race.
ARWS standard box size is 140 cm x 80 cm x 30 cm.
​Please DO NOT bring bigger boxes. 
We advise you not to use cardboard boxes or if you do try to waterproof them as best as you can.
​Here is a good example of how to build your own bike box.
​
​You can store addition gear in the bike boxes but maximum total weight can't be over 25 kg.
PADDLE GEAR
If you have your own paddles, life jackets or wet suits you will have to have a bag for them and we will transport it for you to the beginning of the paddle stages. You will have to transport all the gear from paddle bag including the paddle bag with you to the end of the kayak legs. No gear should be left after you leave with kayaks.
Only gear related to water activities is permitted in the paddle bags  - no food, water, extra clothes...
IMPORTANT
Let us know if you are bringing your own paddles or life jackets to help us with logistics.
ABSEIL SETUP
- climbing harness UIAA certified 
- 3 locking carabiners (screw-lock or auto-lock crabiners)
- rappelling device - You can use either devices like Black Diamond ATC, Petzl REVERSO or similar (combined with Petzl SHUNT or prusik) or assisted braking devices like  Petzl GRIGRI or Camp MATIK
- 2 x 120 cm polyester or dyneema sling 
- bike helmet
- bike gloves 
The winner is the team with all checkpoints collected in the fastest time.
If no team collects all checkpoints the winner is the team with most CP's collected in a row.
If two or more teams have the same amount of CP's collected in a row the team with most CP's collected in total is ranked better.
Example: team A and team B collected all CP's in a row until CP 54, but after that team A collects 9 CP's until the finish and team B collects 10 CP's until the finish. Team B is ranked higher.
After the team breaks the chain of CP's in a row all the teams that collected even one CP in a row more than your team are ranked higher.
Example: team A collects 34 CP's in a row but manages to collect 20 CP's after that. Team B collects 35 CP's in a row and after that collects 16 CP's until finish. Team B is ranked higher.
We will be using two types of maps: standard topo maps and hiking maps.
Hiking maps will have marked hiking routes on them.
All maps will be 1 : 25 000 and the CP's will be marked on them.
The maps will be waterproofed but you will still be able to write on them. 
Each team will get two sets of maps.
BAŠKA BEACH CAMPING RESORT
The organizer will provide accommodation for the teams with half board from May 14 to May 16 and from May 19 to May 21.
Host town of ARC will be Baška, a town located on the south east of the island Krk. 
The host resort will be Baška Beach Camping resort.
The teams will be staying in new and modern completely equipped camping homes with covered terraces and will be provided with breakfast and dinner in hotel Corinthia, located 100 m from the camping village. You'll have all the services and facilities available at Baška Beach Camping Resort and one of the most beautiful beaches in the Adriatic close at hand.
If you would like to come a bit earlier or stay longer, contact us at arc@remarkable.events.
We can provide the same discounted price of accommodation for teams and their family or friends in the period from 13th of May until 26th of May.