FROM THE RIVER TO THE SEA
Croatia, Gorski Kotar & Istria 
14 – 20 May 2023
DISCIPLINES: Run/hike, MTB, paddling, ropes, navigation
DISTANCE: 500 km
CATEGORIES: ARWS Mixed Teams 4
TEAM LIMIT: 30 teams
WINNING TIME: around 75 hours
COURSE OPEN: 102 hours
Unsupported
Kayaks and rafts provided
MANDATORY EQUIPMENT: ARWS Standard list
RULES:  Standard ARWS rules
1st Place – Free entry to ARWC 2024
1st Place – Free entry to ARC 2024
2nd Place – Free entry to ARC 2024
3rd Place – 50 % entry to ARC 2024
Every edition of Adventure Race Croatia explores a new part of our beautiful country. Team of 4 (with one person being of opposite sex) will try to navigate thier way from control point to control point in a number of disciplines. Disciplines include: mountain biking, trekking, kayaking and orienteering.
Adventure Race Croatia is somewhat different from most of the races in ARWS. Not to say that there is anything wrong with other races but we prefer to have shorter stages and more of them. ARC will typically have between 14 -17 stages and hike stages will rarely be over 40 km, bike stages over 100 km and kayak stages over 40 km.
A lot of stages means a lot of transitions so you can think of transitions as a separate discipline because you can loose a lot of time in them if you are not organized, prepared and efficient. So don't forget to train transitions too.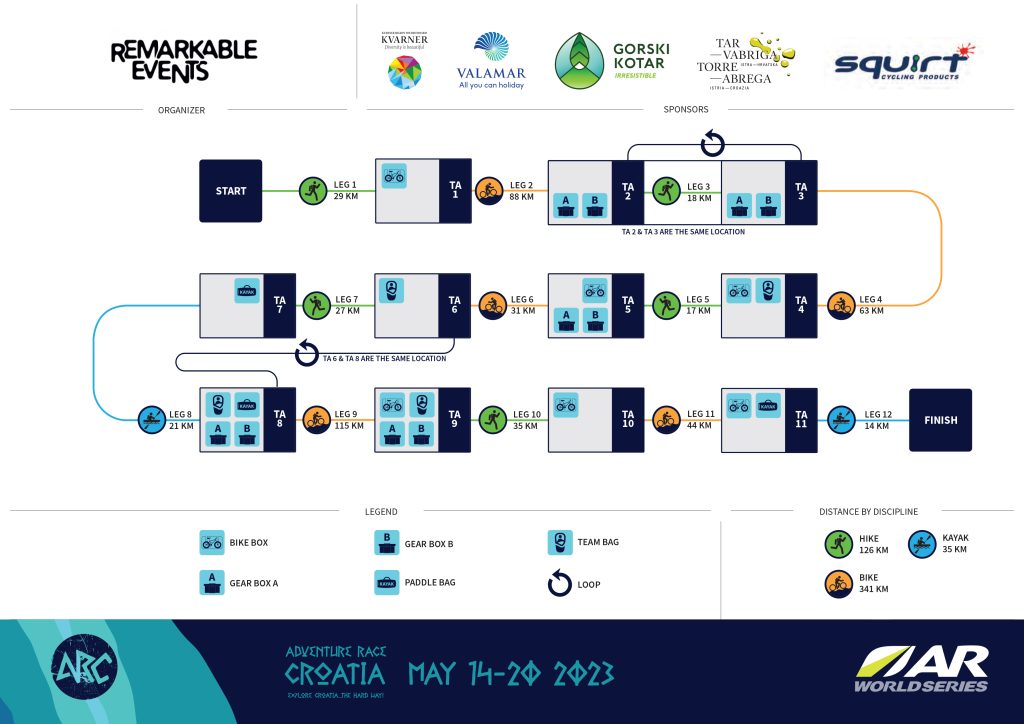 We will introduce a new ranking system for ARC 2024.
Some check points will be  Mandatory Check Points (CP) and some will be Optional Check Points (OCP).
Mandatory CP's are obviously mandatory and teams will need to collect all of them in order to be ranked. Optional CP's will have time value that will be added to the total race time for teams that do not collect them.
Once a team misses their first Optional CP's it immediately goes from Full Course team to a Short Course team.
The teams from the Short course cannot be ranked higher than teams from the Full Course.
The winner is the team with all check points (mandatory and optional) collected in the fastest time.
If none of the teams collects all the CP's (mandatory and optional) the winner is the team that has collected all the Mandatory CP's in the fastest time (with the added time for every OCP they missed).
GEAR BOXES
We will provide you with 2 re-supply boxes per team (approx 140 l per box).
Only boxes supplied by the organizers may be used, teams can't use their own re-supply boxes.
Boxes will be available at some of the transition areas on route. You will always get your 2 boxes together, except on two transition areas.
More info on these areas will be in the road book.
Maximum weight of the one box is 30 kg.
TEAM BAG
Each team can have one team bag with a tent and sleeping items (sleeping bag, sleeping mat, favorite stuffed toy...). We suggest waterproof duffel bags cause we cannot guarantee that they will stay dry.
Team bag will be available at some of the transition areas on route. 
More info on these areas will be in the road book.
Maximum weight of the bag is 30 kg.
BIKE BOXES
The teams will have to bring their own bike boxes for safer and easier transfer during the race.
ARWS standard box size is 140 cm x 80 cm x 30 cm.
​Please DO NOT bring bigger boxes. 
We advise you not to use cardboard boxes or if you do try to waterproof them as best as you can.
​Here is a good example of how to build your own bike box.
​
​You can store addition gear in the bike boxes but maximum total weight can't be over 25 kg.
PADDLE GEAR
Each team must have their own paddle bag. Even if you will not use your PFD's, paddles or wetsuits you will use this bag to store PFD's and seats given to you by the organizer.
Your kayak bag will be waiting for you at the beginning of every kayak leg. You will have to transport all the gear from paddle bag including the paddle bag with you to the end of the kayak legs. No gear should be left after you leave with kayaks.
Only gear related to water activities is permitted in the paddle bags  - no food, water, extra clothes...
Maximum weight of the bag is 30 kg.
IMPORTANT
Let us know if you are bringing your own paddles or life jackets to help us with logistics.
For ARC 2023 we will not have any abseil or repelling but we will have Via ferrata.
You will have to bring a harness and via ferrata set. You can use DIY Via ferrata set but it has to be done properly.
Ropes should be at least 6 mm and you must use locking carabiners.
You can use your bike helmet.
We reserve the right to stop you from going on Via ferrata without the appropriate gear.
Bring Via Ferrata set to registration.
Use this video as an example of how to make a proper Via ferrata set.
We will be using two types of maps: standard topo maps and hiking maps.
Hiking maps will have marked hiking routes on them.
All maps will be 1 : 25 000 and the CP's will be marked on them.
The maps will be waterproofed but you will still be able to write on them. 
Each team will get two sets of maps.
LANTERNA PREMIUM CAMPING RESORT
Host town of ARC 2024 will be Tar, located near Poreč in Istria.
The host resort will be LANTERNA PREMIUM CAMPING RESORT.
We made sure that everything is in walking distance from your bungalow – the hall for registration and race briefing, restaurant, gear drop off point and most important – the beach.
The area of the Marine Premium camping home is 32 m² and they are located in a beautifully landscaped part of the camp decorated in the marine style, surrounded by Mediterranean vegetation and close to a new aqua park and pool. They can accommodate up to four people in two bedrooms and offer a spacious and well-equipped kitchen (microwave/stove) with an additional sofa bed, satellite TV and two bathrooms. Marine Premium camping homes are air-conditioned and have a spacious and covered terrace with a barbecue.
If you would like to come a bit earlier or stay longer, contact us at arc@remarkable.events.
We can provide the same discounted price of accommodation for teams and their family or friends in the period from 13th of May until 26th of May.